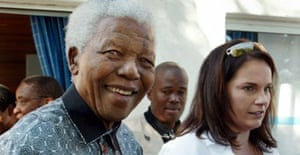 It is, as they say in South Africa, a hell of a thing. Rags to riches, redemption, love: there's a smattering of all the fairy-tale classics in the story of Zelda la Grange, a young Afrikaner girl who rose from middle-class obscurity, and a blindly ignorant apartheid past, to win the affection and trust of a black man who was once the most feared enemy of her family and her volk and is now, by global consent (volk not excluded), the greatest political figure alive. La Grange, now 37, has spent more time than anyone in the company of Nelson Mandela since he became president of South Africa 14 years ago. It is only his third wife, Graca Machel, who is with Mandela more than La Grange is.
La Grange has been his secretary, butler, aide-de-camp, spokesperson, travelling companion, confidante and – as she put it, and he agrees – honorary granddaughter, growing ever closer to him from the day she began work as an anonymous typist in the presidential office in 1994.
When he ended his presidential term in 1999 she became his de facto gatekeeper, a position which gave her a tremendous amount of power, as well as access to famous people everywhere. For there has not been – and there still is not – a political leader, a Hollywood actor, a pop singer, a famous footballer who has not longed to be photographed alongside him. Which has meant that everyone from Bill Clinton to Robert De Niro to Elton John to David Beckham has had, to some degree, to curry favour with her. And that when the time has come for the celebs to have an audience with the grand old man, she has invariably stood alongside, meeting them not as the hired help but, acknowledged with all due deference for what she is, as a member of Mandela's innermost retinue.
Since Mandela formally retired – though, in truth, he only half retired – from public life in 2004, her vast, hitherto seven-day-a-week workload has diminished somewhat. She continues to organise his schedule and the two remain in perpetual contact. But she has had time to expand her activities beyond those limited to his personal agenda to include fundraising work on behalf of Mandela's charitable foundations, notably 46664, the one named after his prison number during the 27 years he spent behind bars and whose purpose it is to combat Aids in South Africa, the country with the most victims of the disease, and globally. In this capacity she has been visiting London in recent months, taking a leading role in the organisation of Mandela's 90th birthday festivities, the high point of which will be a concert in Hyde Park on 27 June that will bring together not only many of the leading names in contemporary music but world-famous politicians and actors, too.
It was on one of these visits that she agreed to meet me. I had been warned that she had been skittish about agreeing to do media interviews, that she was concerned certain boundaries should not be crossed – which put me doubly on my guard. I had met her briefly a few times before in the course of interviews and occasional encounters with Mandela and had formed an opinion of her as a formidable police sergeant. There had seemed to be a sweetness and a charm beneath the hard-nosed, hyper-protectiveness, but it had required a certain generosity on my part to detect. Continue reading →