US President Donald Trump says he is rolling back the Obama administration's "completely one-sided deal with Cuba".
Speaking in Miami, Florida, he said his new policy would tighten rules affecting travel and on sending funds to the Caribbean island nation.
But he is not reversing key diplomatic and commercial ties, and will not close the US embassy in Havana.
Commercial flights from the US will continue, as will allowing Americans to return home with Cuban goods.
Mr Trump said the Obama administration's March 2016 deal with the "brutal" Castro government was "terrible" and "misguided".
On Friday, Mr Trump signed a presidential directive calling for tighter enforcement of a longstanding ban on American tourists going to Cuba.
The new policy bans most US business transactions with the Armed Forces Business Enterprises Group, a Cuban entity involved in all sectors of the economy.
However, it exempts air and sea travel, allowing US airlines and cruise lines to continue serving the island.
Mr Trump had faced calls from the business community not to completely reverse his Democratic predecessor's diplomatic rapprochement between the two former Cold War foes.
It is the latest part of former President Barack Obama's legacy that Mr Trump has moved to dismantle.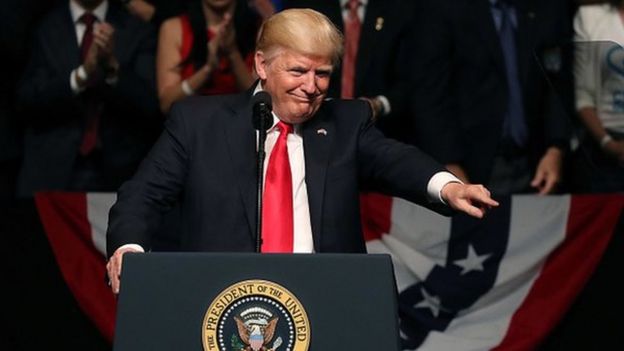 He cancelled the Trans-Pacific Partnership trade deal, announced he would withdraw the US from the Paris climate accord, and is attempting to repeal and replace Obamacare, his predecessor's signature policy accomplishment.
In Friday's remarks, Mr Trump set out how his administration would seek to prevent US dollars from being used to fund what it regards as a repressive military-dominated government.
"The profits from investment and tourism flow directly to the military," he said to applause. "The regime take the money and owns the industry."
"We do not want US dollars to prop up a military monopoly that exploits and abuses the citizens of Cuba," he told the audience.
Earlier in the day, Vice-President Mike Pence visited Little Havana in Miami to play dominos with Cuban-Americans.
---
A history of the US trade embargo with Cuba
1959: Cuban revolutionary Fidel Castro leads a guerrilla army into Havana overthrowing the Batista regime.
1960: In response to Castro's communist reforms, US breaks off diplomatic relations with Cuba and imposes a trade embargo.
1962: Castro agrees to allow the Soviet Union to deploy nuclear missiles on the island bringing the US and the USSR to the brink of nuclear war.
April 2009: President Barack Obama lifts restrictions on family travel and the sending of remittances to Cuba.
July 2015: The US and Cuba reopen embassies in each other's capitals and restore full diplomatic ties.
March 2016: President Obama makes a three-day visit to Cuba and holds talks with President Raul Castro. He expresses hope the embargo will be ended, but it can only be lifted by the US Congress which is controlled by Republicans who oppose the move.
Aug 2016: US commercial flight arrives in Cuba for the first time in more than half a century.